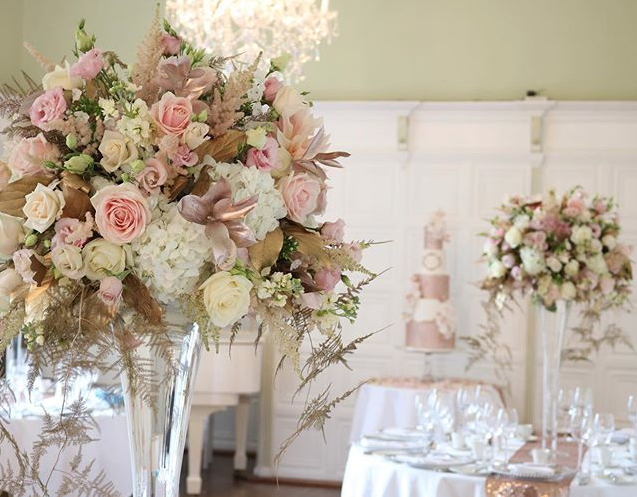 Our lovely bride Tanya certainly knew what she wanted!
"When people see the room, I want them to be totally blown away by the flowers," she told us during her consultation at our boutique shop in Hatter Street, Bury St Edmunds."
This is mana from heaven for a wedding florist and the talented Tudor Rose team ran with the exciting brief.
Tanya's theme was floral opulence – nude pinks, blush pinks and ivories, and…wait for it…the icing on the cake…everything to be finished with splendid touches of rose gold.
So far, so good – this theme is a great start for the big WOW!
A waterfall-style display tumbling from the stunning Minstrel's Gallery at Tanya's beautiful wedding venue, Hengrave Hall, in the heart of Suffolk, 10 giant fluted vases topped with dramatic floral displays for the Long Gallery at the stately home and a gorgeous flower frame for her table plan made it a dead cert – Tanya (not forgetting her handsome groom, Chris) would indeed get her WOW.
In a message a few days later, Tanya told us: "To say we were blown away with the flowers would be an understatement! They were so unbelievably beautiful – serious flower goals. Thank you…for providing a faultless service for our big day."
Take a look through this gallery of beautiful photos of Tanya and Chris's wedding flowers.