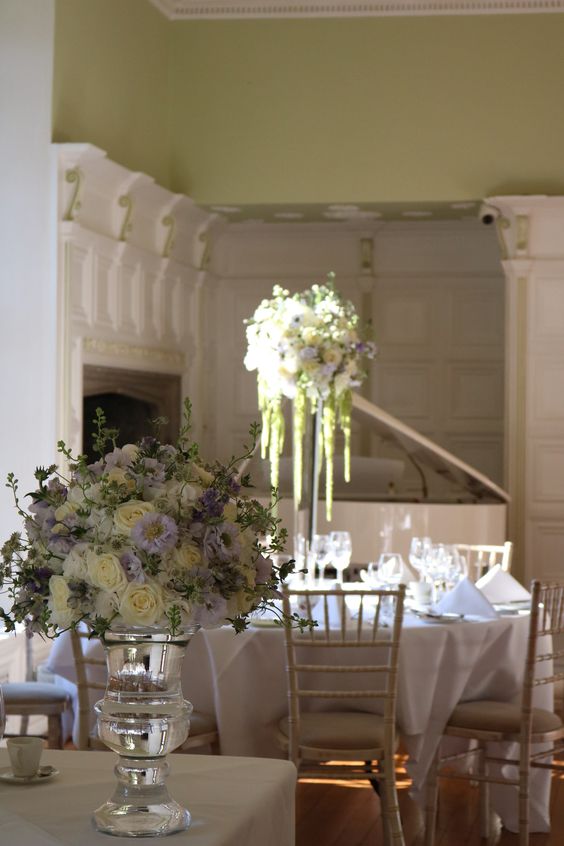 Hengrave Hall open evening
We've been working at top wedding venue Hengrave Hall since it opened and are still the only florist the incredibly sought after venue recommends to its couples.
For the regular open evenings, we get the chance to really show how the lovely stately home looks when it is adorned with beautiful wedding flowers.
Danny decided on a colour scheme of whites with touches of mauve and lilac for the latest showcase event and introduced some new props into the Long Gallery.
Our new crystal stands were used for the lower displays – the cut glass catching the light perfectly. On top of the stands were dome-like designs filled with summery flowers such as stocks, roses, scabious and delphinium.
For the remaining tables he chose tall, elegant lily vases topped with gorgeous ball-like displays which echoed the low designs but were finished with hanging amaranths to give a cascading effect to the finished result.
For the top table a traditional long low display following the floral theme took centre stage in the middle. But the display was flanked with larger glass urns decorated with domes of flowers – making the top table a real focal point of the room.
But we saved our most dramatic work for Hengrave's gorgeous minstrel's gallery – a waterfall of white orchids, w  hite asparagus fern and hanging glass orbs filled with more phalaenopsis orchids.
It may have been the hottest day of the year – unbelievable for mid September – but the silvery white cascade brought a Narnia-like feel to the banqueting hall below.