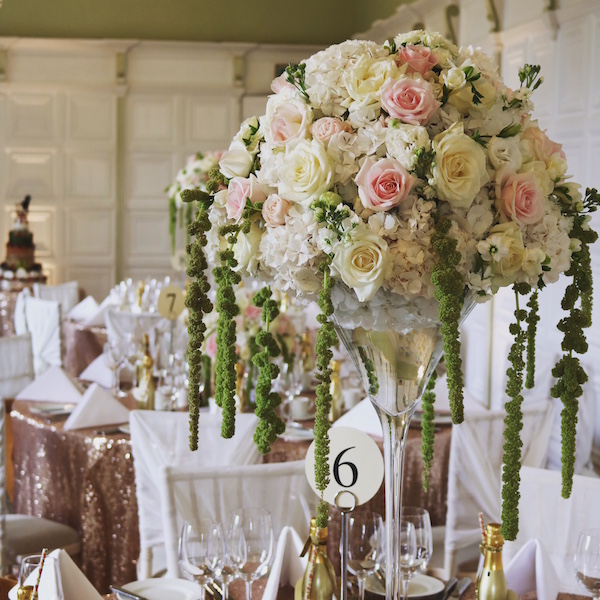 Thank you brings back fond memories of classy summer wedding
Just had a great thank you card from one of our lovely couples – Tara and Darren – along with some beautiful photos of the flowers they chose for their wedding at Hengrave Hall at the end of September.
Beautiful Tara went for an elegant and stylish theme and wanted her flowers – put together by Danny and the Tudor Rose event floristry team – to be as gloriously opulent as her fabulous gold sequinned table cloths.
She went for graceful martini vases for the tables – topped with statement displays of massed ivory and blush roses, hydrangea and stocks, finished with sumptuous hanging amaranths to add to the luxury feel.
And wow, the Long Gallery at Hengrave looked almost as stunning as Tara did in her figure-hugging lace bridal gown (groom Darren didn't scrub up too badly either in a very smart tux).
It's a real tonic – particularly on a cold January day – to be reminded of amazing wedding floristry created here at our studio/boutique shop in Hatter Street, Bury St Edmunds suffolk, in the soft warmth of late summer of 2016 so thanks Tara and Darren for taking the time to put pen to paper – the talented florists here got a real buzz from your kind words.