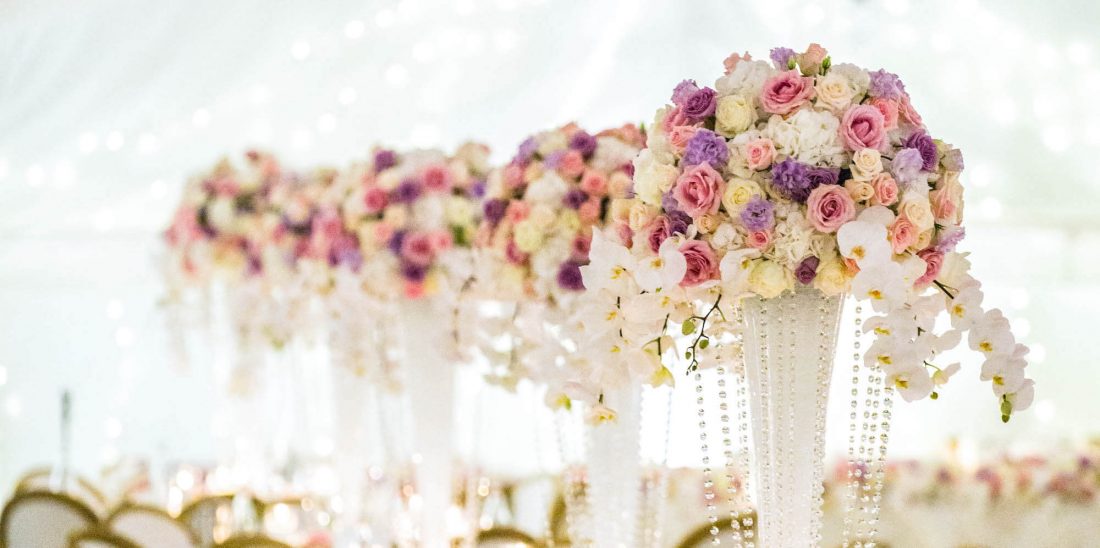 Janay and Fraser – Hengrave Hall
IT was the toughest week of the year – a floral onslaught of gigantic proportions, logistics from hell, a wedding to end all weddings….and then there was the mother of the bride!
Thank God for her – the wonderful Lisha. She was just the most perfect customer in the world – she knew exactly what she wanted and she made all the hard work so worthwhile with her sublime charm and her absolute delight at our heroic efforts. And boy was Lisha's daughter's wedding grand!
On asked how many tables, our favourite bride's mother said the dreaded words "twenty five" like she was ordering a cup of tea! And it wasn't only 25, metre-high vases topped with statement displays massed with beautiful roses and the whitest hydrangea and finished with cascades of stunning phalaenopsis orchids.
It was rings of roses and hydrangea at the base of each one and every vase was finished with dozens of strands of glittering crystals – a perfect finishing touch – but a logistical nightmare given first access to Lisha's fabulous marquee was at 9am and the wedding was at 2pm. However, Lisha wasn't done with the 25 tables, a billowing cloud-like runner for the long top table, hundreds of vases filled with floating candles, several grand urns and a statement vase for the entrance to the marquee. No sir! She had her heart set on a fairytale church.
We tentatively suggested six magical tree-like arrangements lining one of the widest aisles in the country – St Mary's, in Bury St Edmunds – might be enough. Lisha thought for a minute and said "how about 12?" Another cuppa Lisha?? And so it was…12 trees underlit with an enchanted runway of church candles in gleaming cylinder vases, a 15ft floral arch and two giant urn displays at the front.
Oh…did I mention the giant shower bouquet of phalaenopsis orchids for the bride, the lovely Janay, 10 bridesmaids handtieds of massed roses, 250 buttonholes and a Tudor Rose speciality – a beautiful floral table plan, which every single guest had a good look at.
Here are a few pics by the fantastic Martin Beard Photography which help capture an utterly amazing (if completely exhausting) day.