Joanne & Dan- Lavenham Church & Hedingham Castle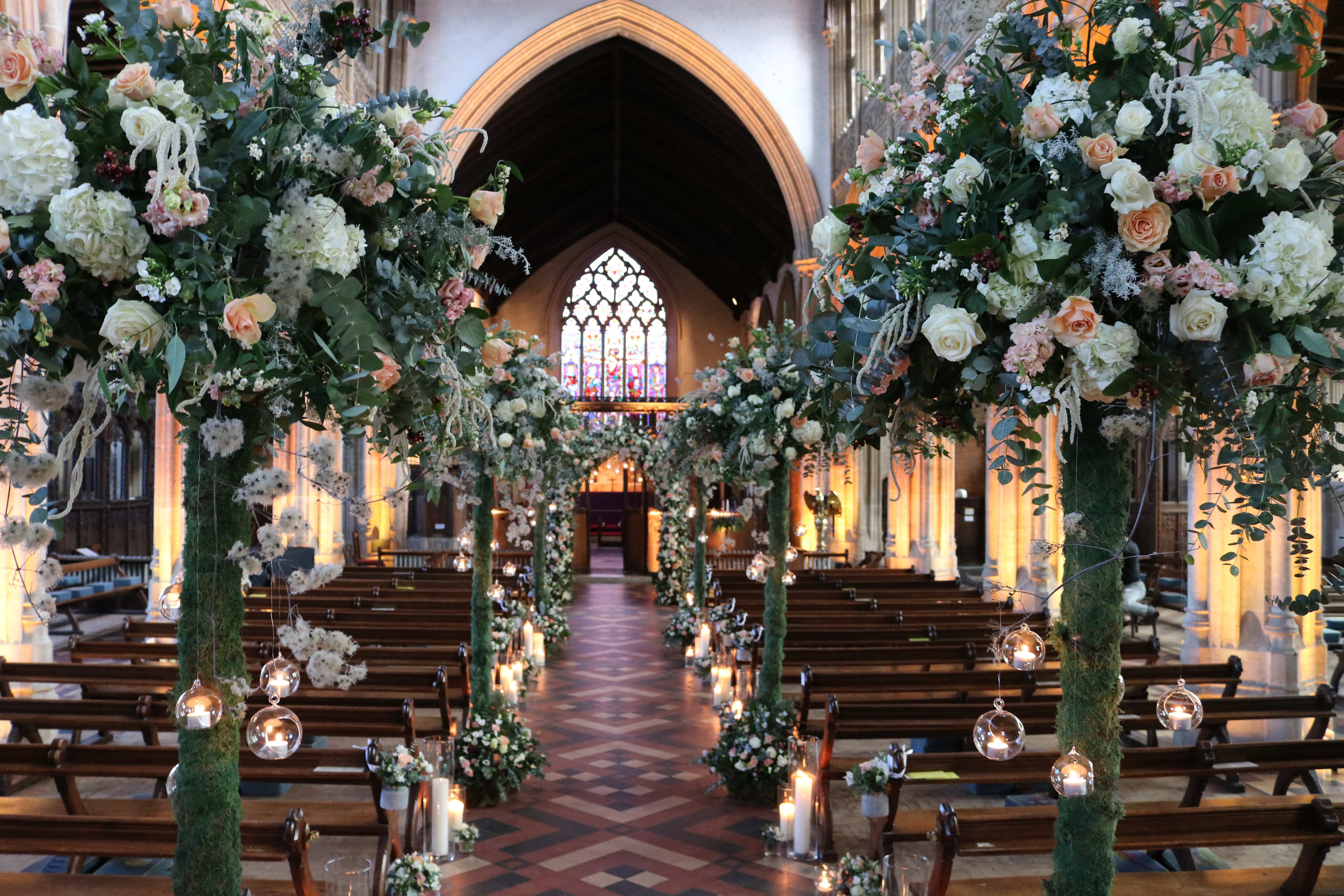 When you think about it, the aisle is quite an important aspect of a wedding.
But when our bride and groom Joanne and Dan said they wanted to make a thing of the aisle at beautiful Lavenham Church in Suffolk for their Christmas wedding – they really meant A THING.
This was to be one spectacular aisle and Joanne knew that our own chief florist Danny Preston, based at our shop in Bury St Edmunds, was the designer to turn her imaginings into breathtaking reality.
Morning, afternoon and evening workshops, of between six and eight people, are perfect for groups of friends and family looking for that special "experience" outing.
Towering mossed trunks topped with giant floral displays lined the aisle creating a dreamy tunnel-like effect made all the more wonderful with shimmering candles in glass storm lanterns dotted along and between and hanging glass orbs filled with twinkling tea lights.
The enchanted passageway led to a giant showstopper floral arch at the end of the aisle – finished to the sides with banks of flowers in glittering glass and candles floating in vases.
It was a truly magical look, enhanced with some stunning lighting by the guys at Dreamwave Events, who lit the graceful pillars at Lavenham church with a glorious warm glow.
We even managed to get a glimpse of the happy couple walking down the aisle and it was wonderful to see Joanne, her trademark natural-style Tudor Rose bouquet in one hand and her handsome new husband's hand in the other, amidst the fairytale aisle she had dreamed of. An aisle indeed!