Claire & Jonathan – Butley Priory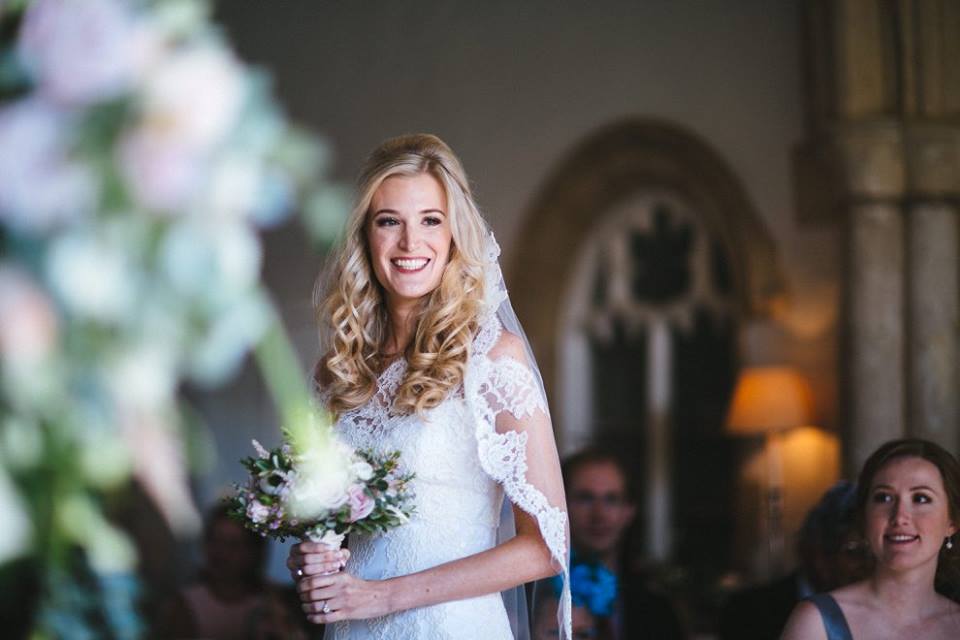 IT'S music to any florist's ears when the bride – and her mother – say in no uncertain terms: "We don't micromanage – work your magic."
And so it was with Claire Morneau and her mum, Joyce O'Donnell.
Claire and Joyce gave us a colour scheme, some of their favourite flowers and a rough idea of what they wanted for Claire's wedding to Jonathan at the beautiful Butley Priory in July.
In fact,we didn't meet either London-based Claire or her mum until the day of the wedding – dealing mainly with Joyce (both on the phone and on email) from her home thousands of miles away in Texas.
We ran with their ideas and suggested a very muted pink and cream colour palette using beautiful vintage roses, blush peonies and more architectural calla lilies to create dramatic candelabra displays, a gorgeous mantel display lit with church candles and more simple posies for vintage glass vases offset with some lovely low candlelight.
It all sounded great on paper and we do wonderful wedding flowers throughout the year for scores of delighted brides but even with such a vote of confidence in what you do, and especially when the family is as lovely as this one, us wedding florists still worry about getting it pitch perfect.
So it was with some trepidation that we rolled up the Butley Priory drive and set to work. Joyce was out to greet us before the van came to a stop and wasn't going anywhere until we opened up the doors.
Her reaction on seeing the flowers all boxed up for transportation (not the prettiest of sights) was fabulous. We knew we'd got it right straight away and Joyce and Claire, and their whole party of friends and family, were a delight from the minute we arrived.
Claire sent a lovely thank you note earlier in the week and Joyce continues to be the world's best mother of the bride. In an email (see below) we received last night, entitled "Thank you for performing magic",  she made all the anxiety over getting things just right absolutely worthwhile.
Our vote for magic mother – Joyce O'Donnell
photos by Phil Hearing Wedding Photography
I don't know where to begin with expressing how thrilled I am with the floral and decor that Tudor Rose provided for my daughter's wedding at Butley Priory on 22 July 2017.
It has been a particular pleasure to work with you, James, from the very beginning. As we were planning this sight unseen from many thousands of miles and time zones away, it seemed an impossible task. You helped make the planning and decisions so much easier with the wonderful Pinterest board you developed for Claire with the numerous options and suggestions. You were able to handle everything, including last minute rosemary sprigs for decorating the place setting. I believe I asked for ``magical`` and magical it was - the bouquets were absolutely lovely, the pew ends so pretty and summery with the rose petal aisle. The high candelabra florals with the tapers were so elegant and paired nicely with the low table arrangements with the beautiful glassware and candles. The mantlepiece with the pillar candles was so very stunning and completed the room perfectly.
You and your team at Tudor Rose handled everything brilliantly the day of the wedding. I was able to relax and just watch the magic happen.
An eternally grateful Mother of the Bride,
Joyce O'Donnell