Emma & Gavin – Hengrave Hall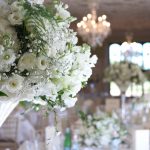 It's always lovely to get thank you presents – especially large tins brimming with delicious cakes…
But nothing – however calorific or alcohol laden – can beat a thank you card like the one the Tudor Rose team received from one of our favourite couples of the year – the fabulous Emma and Gavin.
The pair got hitched at Hengrave Hall earlier in June and Danny, Jess and Aimee worked their socks off to transform the gorgeous venue into a fairytale setting for their wonderful, relaxed wedding.
Jess brought together a glorious, billowing church arch, while Aimee and Danny were shinning up ladders to decorate the graceful pillars inside with breathtaking garlands.
Over in the hall itself, the tables for the wedding breakfast were finished with tall, elegant martini vases topped with dreamy white clouds of wedding flowers and low, crystal stands cradling displays in the same style.
A stunning frame of flowers in the white wedding theme held the table plan – a design which is rapidly becoming as  much a trademark for Tudor Rose as our unrivalled flower arches.
Thanks to some serious pre-planning and preparation in the cellar of our boutique style shop in Hatter Street, Bury St Edmunds, and on-the-day hard graft  everything came together beautifully.
But for the team, usually completely drained after big weddings – actually very little in the world of real wedding floristry is anything like the dreamy, flowery world portrayed by the romantics – a thank you like this makes all the hard work totally worthwhile.
Emma and Gavin's lovely message – attached to the very gratefully received box of cakes – read as follows –
``Dear Danny, James and all the Staff at Tudor Rose. Thank you from the bottom of our hearts for all your hard work at Hengrave on June 10th. Every area of Hengrave looked truly stunning and it exceeded all of our expectations. We have had so many messages and all have mentioned how beautiful the flowers were. Thank you for helping make our wedding day so perfect in every single way. Now put your feet up, have a cuppa and enjoy! With love and best wishes, Emma and Gavin (Mr and Mrs Collins) xxx``