Sophie & Ben – Garden Marquee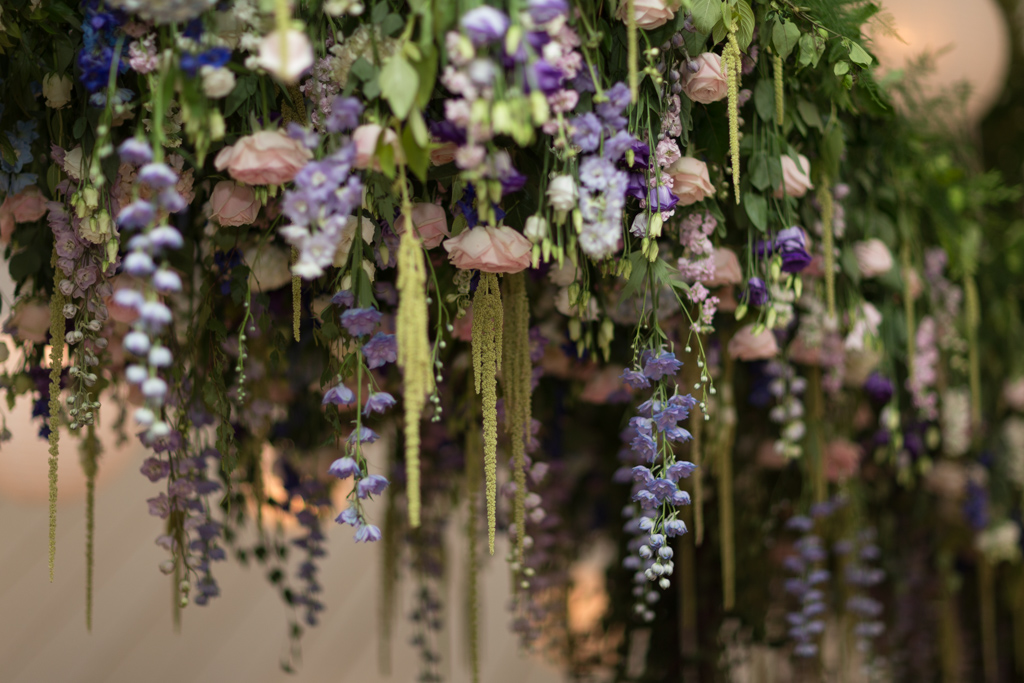 With the trend for spectacular marquee florals taking hold, finding the right florist for the job is key.
Having specialised in wedding and event floristry for many years we feel we have seen and done most things but when our lovely bride-to-be Sophie came into the Tudor Rose shop in Bury St Edmunds with her mum, Kate, they had a challenge, even for us.
They wanted a spectacular floral ceiling as the focal point of their marquee wedding – running between two towering hornbeam trees and really bringing the beauty of Kate's gorgeous Suffolk garden into the marquee itself.
Planning for the breathtaking giant chandelier-style display in the traditional Chelmer marquee was a feat of engineering in itself – working within strict weight limits and deciding on the best way to stabilise such a large-scale piece above the heads of so many wedding revellers.
And on the day itself hundreds of individually wired blooms were slotted into place to completely cover the industrial looking scaffold structure.
Amid not a little trepidation, the Tudor Rose team winched the ceiling into place. Sighs of relief were met with encouraging applause from our fellow suppliers. High fives all round!
We thought the end result was rather beautiful – hope you agree!
Professional Photographs – Steven John Brooks Photography https://www.stevenbrooksphotography.co.uk/