Claire and Josh – Hengrave Hall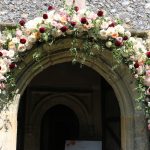 Congratulations to Claire and Josh!
Our first big wedding of the season and the flowers were quite something!
The soft pinks and ivories – we used roses, some lovely Kloon ranunculus, stocks and some lush white and pink hydrangea – were given a fantastic lift with the use of some deep plummy/raspberry red tones.
Our bride, Claire, wanted classic and romantic with a pop of colour and she chose just the right shades for the beautiful little church at Hengrave and the grand Long Gallery.
Elegant lily vases adorned the altar, flanking a sumptuous long low display and the entrance was draped with a trademark Tudor Rose arch – finished with glorious, trailing jasmine to give a beautiful ethereal feel.
For the wedding breakfast, the tall lily vases on every other round guest table gave some wonderful impact, with the other tables adorned with lower displays on our eye-catching crystal stands.
The flowers were made that touch more gorgeous with the welcome appearance of the summer – a few days in late April which fooled us all that winter was over!